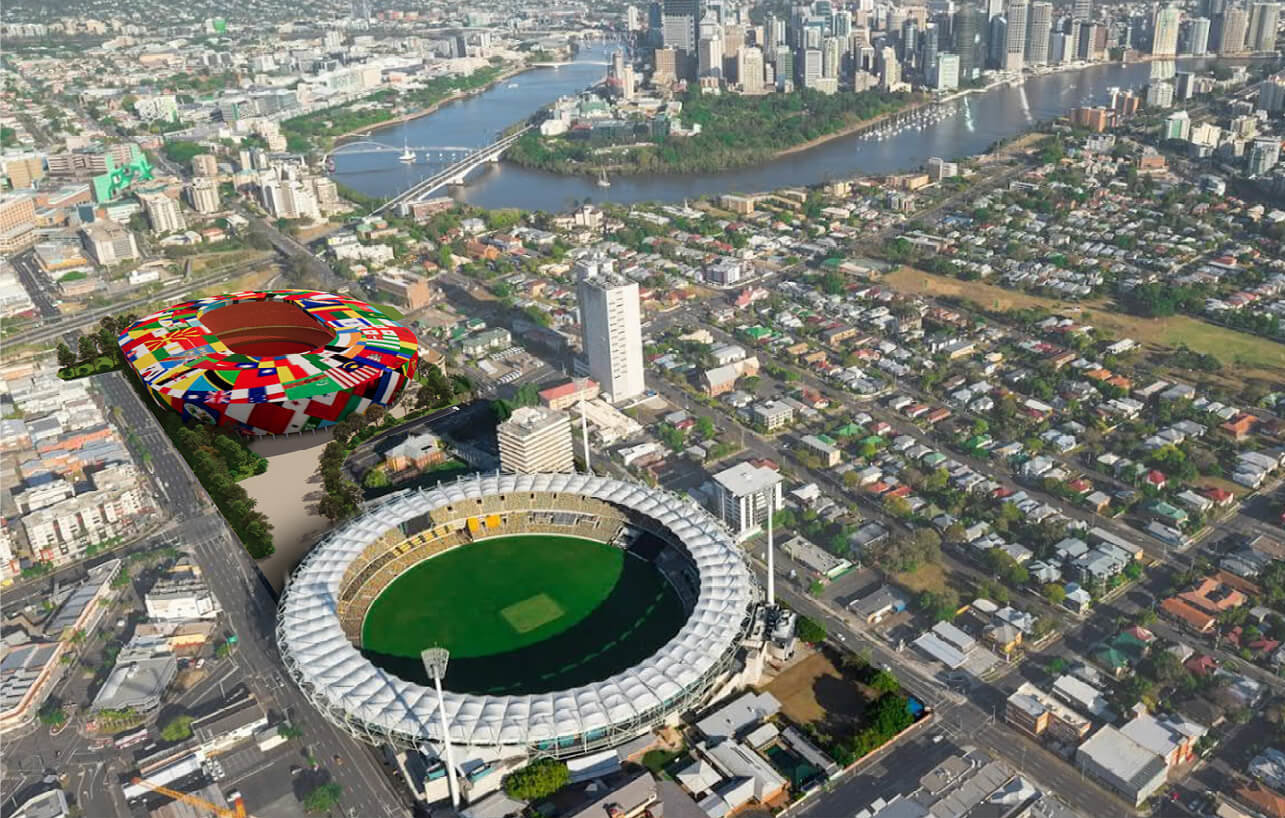 Climate-positive Olympics advocacy
This self-funded piece of urban design research (2022) is a test case that rigorously applies a set of sustainable design principles to an existing, high-profile Olympic proposal to demonstrate what a 'climate-positive Games' looks like.
The stated goal of the Brisbane 2032 Olympics is to be the first 'climate-positive Olympics'. Yet the Queensland Government's pre-determined plan for the Gabba as the Olympic stadium immediately sets back the agenda.
The published design proposals for the Gabba and the adjacent site (see here), which is currently being used by the cross-rail project, are based on predetermined design parameters that stand in direct contrast to achieving a climate-positive Games.
The Government's current brief:
demolishes a perfectly serviceable 42,000 seat stadium;
puts pressure on existing heritage assets (the East Brisbane State School and the Woolloongabba Police Station);
separates the athletes from the warm-up track; and,
builds a new stadium that is unsuitable for its current and future uses as a venue for cricket and AFL football.
Watching this play out, we decided to test the project against climate-positive design principles.
We found that by rethinking the way the site is developed and staged, a far better design solution is achievable. Our proposal retains the Gabba and builds a temporary stadium on the adjacent site. This solution provides many benefits.
The temporary stadium can be deconstructed after the games and the materials either completely repurposed or recycled.
The site of the deconstructed stadium can be returned to the public as a park or for another community use.
The Gabba becomes the warm-up facility, better serving athletes and officials, and can be returned to the cricket and AFL after the games.
Existing community assets can be retained, upgraded and enhanced, not demolished e.g. the Gabba, the East Brisbane State School and the Woolloongabba Police Station.
It is more cost-effective.
It can be built more quickly.
It can be started earlier – the Woolloongabba Cross River Rail Station is handed over in 2024 but the Gabba is not available until 2025.
It aligns with sustainable design principles that genuinely support a climate-positive Games.
This work is not intended to be read primarily as a 'design' but rather a test-case for what is possible when the design principles for a climate-positive Games are rigorously applied. Imagine if all our Olympic projects applied the same principles!
Note: We have consulted with the following people/organisations on this work.  Malcolm Middleton (immediate past Queensland Government Architect) and Global GreenTag's David Baggs and Mary-Lou Kelly.
See the story in the Australian Financial Review here.
On the land of the Turrbal and Jagera peoples.