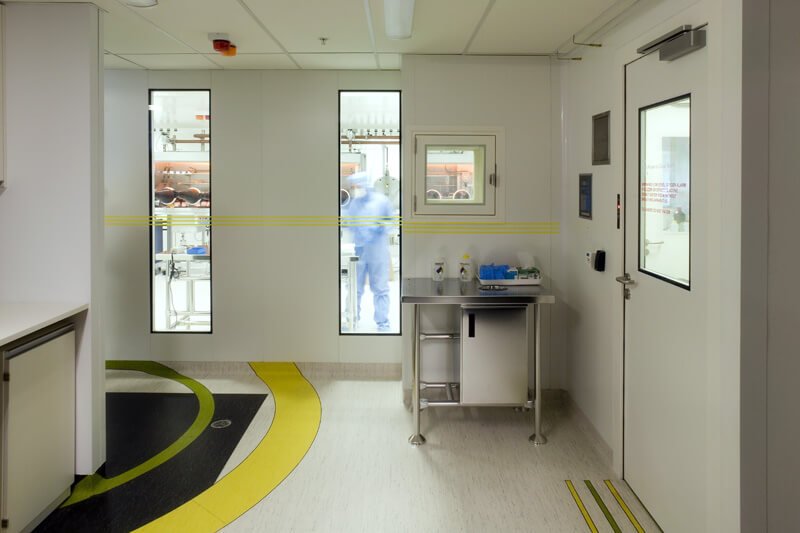 Centre for Organic Photonics & Electronics (COPE) Laboratory
Brisbane, Australia
Located on level 9 of the University of Queensland's Chemistry Building, the Centre for Organic Photonics & Electronics (COPE) brings together researchers from both Chemistry and Physics as well as co-hosting the Australian National Fabrication Facility – QLD Node (ANFF-Q).
COPE's facility is a highly specialized technical environment, including a Class 1000 (ISO 6) Clean Room, Optical (Laser and Testing) Bays, and Synthetic Chemistry Laboratory. Whilst resolving the project's technical complexity was fundamental to enabling the centre's research, a strong emphasis was also placed on provoking inquiry and accommodating collaborative practice. COPE's success is based on these practices.
To enable these outcomes, we worked with the centre to reduce the area allocated to traditional offices to increase the number of collaborative meeting spaces. In a laboratory environment where cleanroom and laboratory functions need to be physically separated from administrative and circulation space, as well as each other, creating a sense of inquiry and connecting a cross-disciplined team is difficult. The laboratory's necessary clinical separation is broken down by blurring the lines at the thresholds between functions, creating a fitout that connects (rather than separates) staff and the different research functions.
The centre is headed by ARC Laureate Fellow (Professor Paul Burn FAA FRSC).  At the time of the project's inception, Professor Burn was located at Oxford University, United Kingdom. This required the briefing process, design and documentation to be managed using practices developed over decades of remote and regional work by m3architecture's directors. This experience ensured that a world-class research team, with the client located on the other side of the world, would have their technical needs met and that a full understanding of the proposal was communicated with certainty. This enabled the successful construction of the project prior to the client moving to Australia.
On the land of the Turrbal and Jagera peoples.