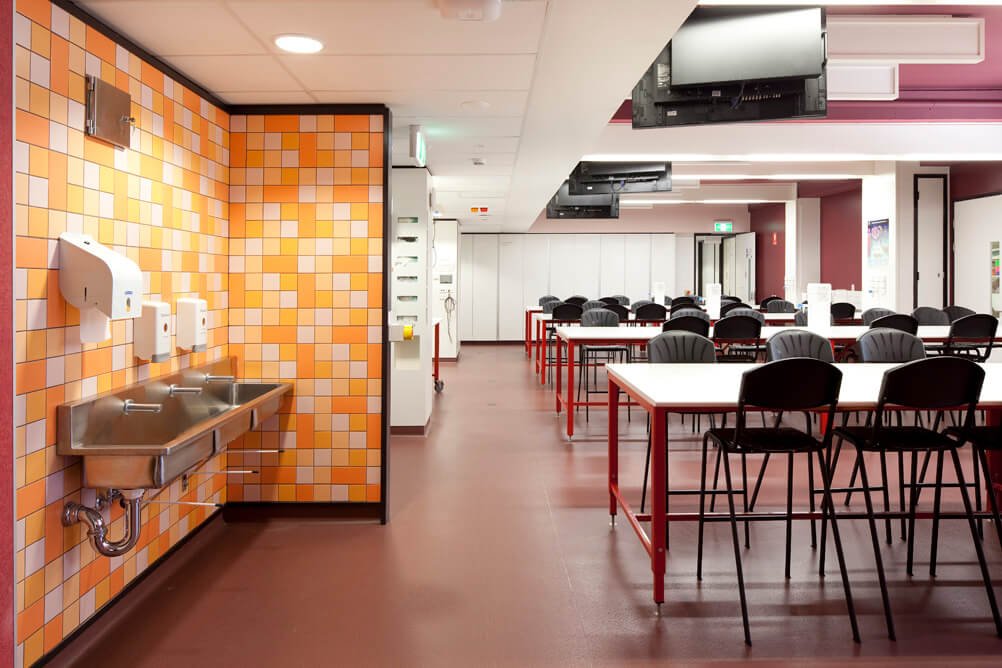 Physiology and Pharmacology Teaching Laboratories
Brisbane, Australia
This major refurbishment provides Physiology and Pharmacology teaching laboratories for the School of Biomedical Sciences at The University of Queensland.
Our approach was driven by a desire to make a comfortable fit between new and old building fabric and to produce a user-specific spatial condition.
The concept draws parallels between the colour-coded 'anatomy' of the existing 1960s building, and the systematic use of colour to produce representations of the body and its systems in anatomical and physiological drawings, models and diagrams. These overlaps in language and representation between the disciplines are explored through the refurbishment.
The existing building can be understood through its colour codes.
For example:
exterior service risers and columns in blue
floor level identification via painted doors and door frames in green, blue, red, yellow depending on the building level
red/orange painted steel in stairs
the use of terrazzo in common areas like stairs and foyers.
We made reference to the existing codes of the building on level 2 and created a new language common to architectural and biomedical sciences.
The primary structure of the new work is a central services duct that extends through the length of the entire floor. This services 'spine' includes air-conditioning ducts as well as lighting and data services and cabling, and is coded white, along with all other supporting laboratory infrastructure. This forms the 'backbone' of the project conceptually and practically, with ancillary spaces, objects and rooms stemming from it. These other spaces house various supporting programs which similarly maintain architectural and anatomical colour coding. For example; the washbasins that service each lab are coded in brown tiles with yellow/pink interiors that are suggestive of kidneys; the clean room / kitchen bench is coded pink like a tongue, and the bulk of the remaining interior surfaces are a dark bloody red that creates spaces reminiscent of the internal cavity of the body.
These codes and references become more explicit at the entry and stairway, where they become more figurative and obvious.  Full-scale mirrors and anatomical diagrams are employed to engage students in the consideration of their bodies. At the entry, a person entering the building is confronted with their own appearance and movements, along with the appearance of other students in the guise of anatomical models superimposed upon glazing.  This, combined with the anatomical approach to the fitout focuses attention to the field of study within.
On the land of the Turrbal and Jagera peoples.