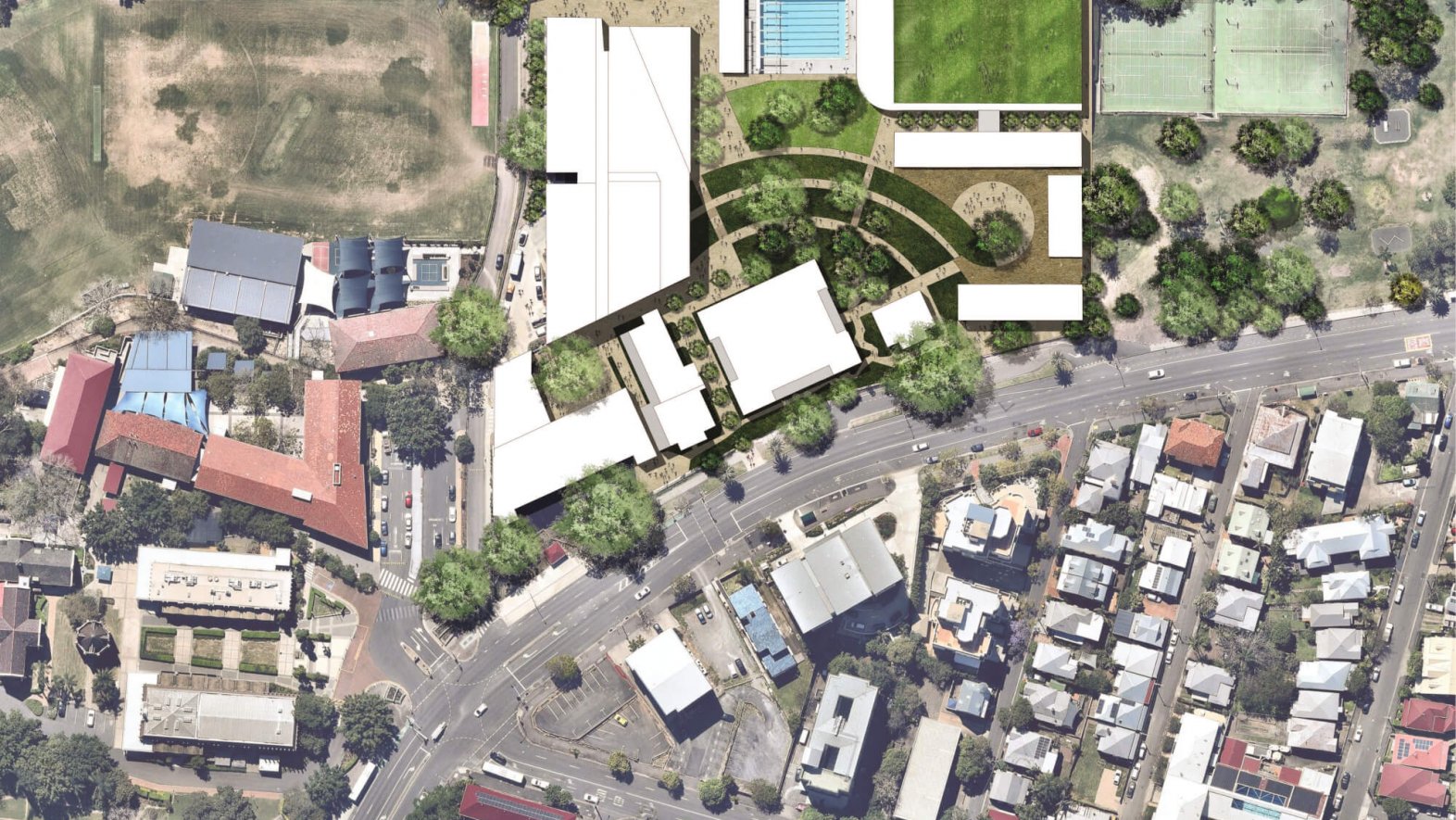 Brisbane Girls Grammar School Master Plan
Brisbane
Since 2001 we have been engaged as the architects for Brisbane Girls Grammar School.
This has involved the review of prior master plans, creation of a new master plan, review of existing buildings and consultation with the school community, leadership team and school board. Following the Master Plan we were commissioned to design and deliver the national award-winning $25M Cherrell Hirst Creative Learning Centre, $10M Pool building, $16M Research Learning Centre along with a series of smaller refurbishment projects.  In 2018 we have reviewed and updated the Master Plan and are currently in the process of designing a new science facility combined with a multi-purpose hall and teaching space.
Brisbane Girls Grammar School has a long and proud history (140 years), with a focus on exceptional scholarship. It is a microcosm of the city and its site has a density consistent with the city fringe. Its foundation building has heritage significance and the centre of the site includes mature fig trees and terraces. The presence of the city, rail and inner-city bypass can be felt, giving a distinctly urban quality to the campus. The master plan identified the primacy of Main Building and the foundation landscape, resulting in the simple principle of ongoing densification around a green heart.
Buildings that have resulted from the Master Plan are 5-6 storeys plus basements, negotiating the 20m site cross fall. The Research Learning Centre is one such building. Completed in 2015, it combines a new library and flexible learning areas. It establishes a relationship with a 100 year old fig tree and for the first time opens up the workings of the school to the historic Gregory Terrace. The interior blurs the line between library and classroom in the creation of a network of contemporary learning spaces. The urban influence and focus on scholarship has resulted in the evolution of a campus style cusp-tertiary contemporary learning environment.
See images below of projects resulting from our Brisbane Girls Grammar School master plan.
Images 1-5: Research Learning Centre. Photography by Christopher Frederick Jones
Images 6-8: Creative Learning Centre. Photography by Jon Linkins
On the land of the Turrbal and Jagera peoples.