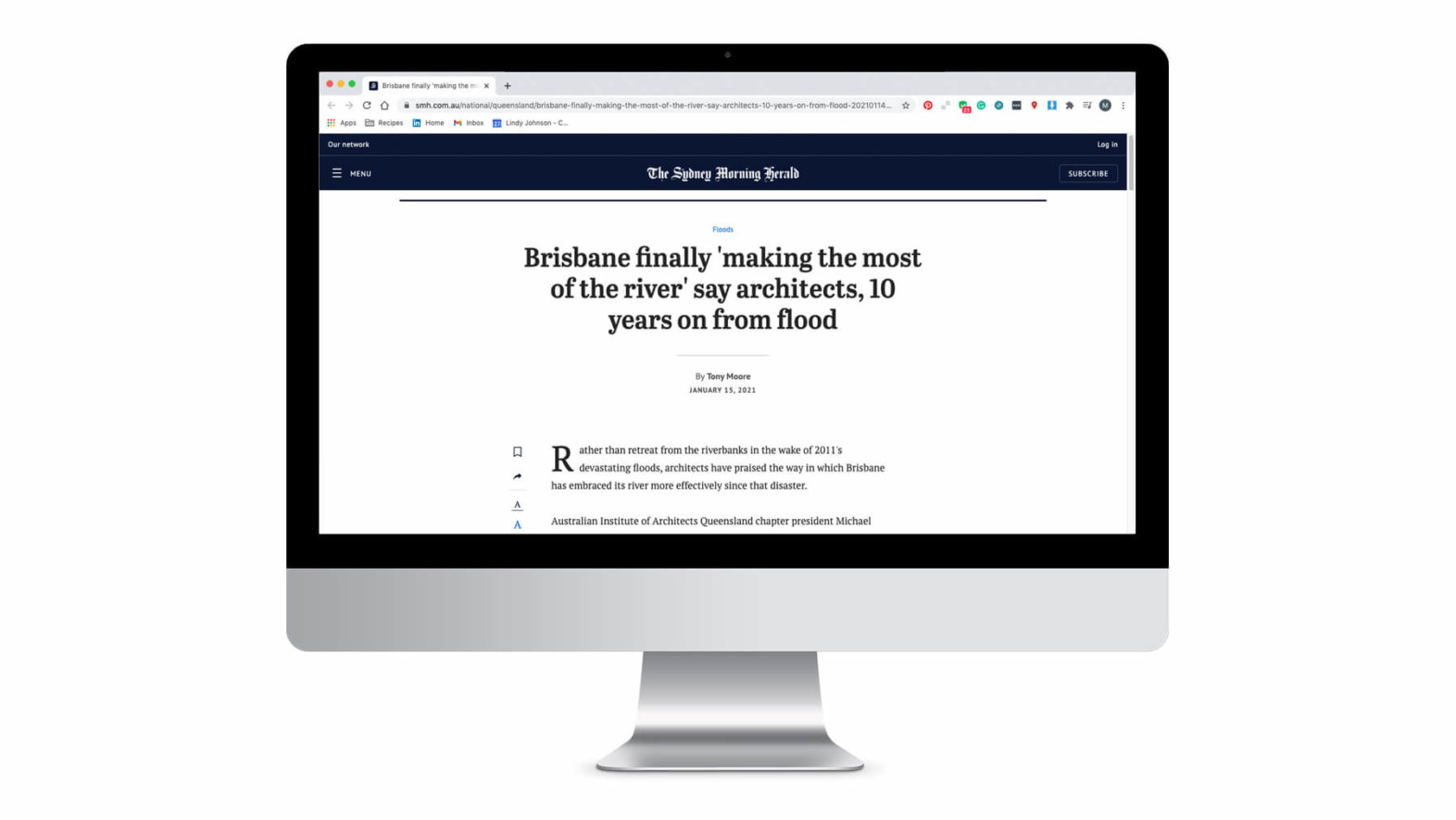 Brisbane finally 'making the most of the river' say architects, 10 years on from flood
Rather than retreat from the riverbanks in the wake of 2011's devastating floods, architects have praised the way in which Brisbane has embraced its river more effectively since that disaster.
Australian Institute of Architects Queensland chapter president (and m3architecture Director) Michael Lavery said Brisbane made better use of its river in 2021 than it did in 2011.
"I would have to say certainly we are more attuned to the river now," Mr Lavery said.
"We haven't always done that, when you look at the history of Brisbane, in terms of architecture."
Examples included having a drink at Howard Smith Wharves, catching a CityCat from one of Brisbane's new "floating" ferry stops or walking along the new flood-resilient Riverwalk.
The devastation of the floods gave the city "moments of opportunity", which Mr Lavery believed it had seized.
He listed specific changes in flood-prone suburbs lining the Brisbane River.
In the wake of the flood, Brisbane City Council relaxed the maximum height for houses from 8.5 to 9.5 metres, which meant the living spaces could be built higher to avoid future flooding.
These changes were noticeable in Fairfield, Yeerongpilly, Chelmer, Teneriffe and West End.
More accurate "overland flow" mapping improved residential development choices and the council installed a network of backflow valves in stormwater drains in suburbs that lined the river.
That came after a study in 2011 by water engineer Max Winders showing water backed up in stormwater drains flooded around "two to three thousand" of the "more than 15,000 Brisbane properties" flooded in January 2011.
In 2016, Highgate Hill architect James Davidson designed homes where the top living areas "disconnected" from the lower levels and floated up as floodwaters rose.
The University of Queensland has restructured its swimming complex so all power and lighting services now run through the ceilings to avoid further floods.
Mr Lavery said architect Harry Seidler's Riverside Centre, built in 1986 on a site that was once a cemetery, followed by low-level timber buildings attached to the old wharves was an early example of blending much-needed office space with open public spaces that run down to the river's edge.
"Prior to that we really were not making the most of the river," he said.
Much of the area under the Riverside Expressway opposite South Bank is becoming parkland as the casino development moves ahead.
Transforming the space under the Story Bridge, where the water police used the old wharves, was an excellent example of a smarter Brisbane, Mr Lavery said.
The idea was first floated by then-lord mayor Campbell Newman and backed as a joint state government-city council concept when he became premier in 2012.
"[Howard Smith Wharves] took some brave thinking and leadership at both the council and state government level, but it has been successful," Mr Lavery said.
Mr Lavery said COVID-19 had a similar potential to reshape Greater Brisbane for the better over the next 10 years.
"It is going to change the city in ways much like the floods did," he said.
Mr Lavery, like others, predicted increased working from home would change patterns of transport and office spaces in the city heart.
Fewer people will work in the CBD, experts predict.
In January 2011 police closed Brisbane's Victoria Bridge for public safety.
Ten years on, the bridge will be closed to cars permanently to make way for a pedestrian, bike and Brisbane Metro-only thoroughfare.
"I think we now have a greater idea of seeing problematic events as opportunities," Mr Lavery said.
"Who can predict how the patterns of transport in and out of the city and residential living might change over the next 10 years or so."