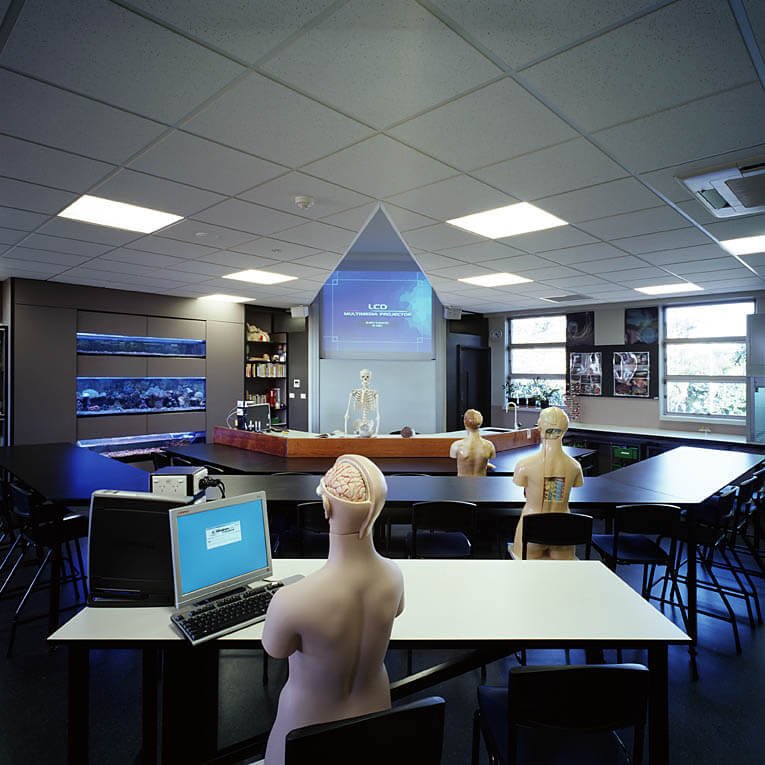 Brisbane Girls Grammar School Science Laboratories
Brisbane, Australia
This project involved the renovation of eleven science laboratories, within an existing 1960s three-storey building and an adjacent heritage building. 
The existing laboratories were around 30 per cent smaller than required. Despite this, we designed flexible and practical spaces by re-orientating the room planning to a 45° grid. This has not only improved the efficiency of sightlines and enabled an intimacy between teacher and student, but it has also increased the number of students able to use the space effectively at any one time through the use of sequester rooms.
Our architectural approach to the refurbishment was to create a clean, simple and humane environment that forms a neutral backdrop to the teaching and learning process. We purposefully avoided creating a clinical laboratory experience, through the careful use of unifying colours, materials and details.
The 'window walls' of each room are painted in warm white tones, to balance the natural light that enters the space. The adjacent walls are finished in several deep shades of charcoal, to at once unify the floor and walls, and to bring together a multitude of different wall surfaces and finishes. Timber details are also introduced at two key points – the entry door and the teacher's bench.
The colour and action generated within the rooms from teachers, students, equipment, posters and projections, visually activate the space in an everchanging way.