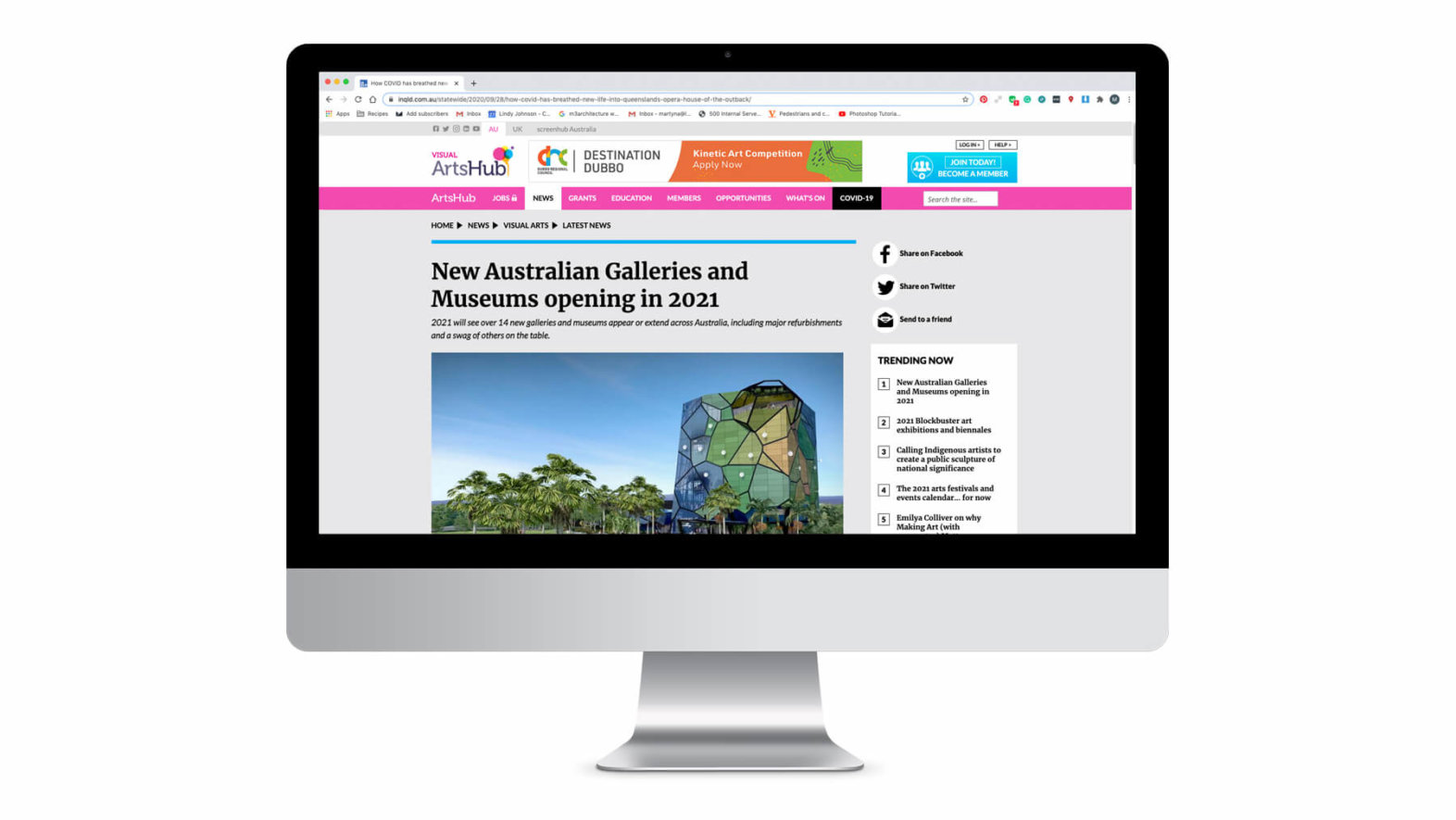 New Australian Galleries and Museums opening in 2021
Our Australian Stockman's Hall of Fame project featured on ArtsHub.
2021 will see over 14 new galleries and museums appear or extend across Australia, including major refurbishments and a swag of others on the table.
The coming year offers moments for celebration and hope for a next new chapter with the opening of new museums and galleries across most states.
With the building industry not forced to stop during last year's pandemic and governments throwing money towards stimulus projects to create jobs and build infrastructure, it was a moment worth seizing. This was more the case with refurbishments pushed through last year, however there are a number of jewels unveiled in 2021 – signature projects that have been in progress for a number of years.
VICTORIA
Australian Centre for the Moving Image (ACMI) – Refurbishhment
Opening: 11 February 2021
Cost: $40 million redevelopment
The Australian Centre for the Moving Image (ACMI) will re-open its doors to the public on 11 February 2021 following its $40 million redevelopment, which has been five years in the making. The project has reimagined ACMI's Federation Square site, including an overhaul of its public exhibition space and entrances.
At the heart of the new ACMI is The Story of the Moving Image, a major free exhibition that blends the physical and digital in ways never seen before in Australia. Visitors will receive a unique handheld device – the Lens – that they can use to 'collect' objects of interest throughout the museum. They can then use this to continue to explore ACMI's collection once they get home.
The new ACMI also includes: a major new work by Gunditjmara Keerray Woorroong artist Vicki Couzens; new high-tech Gandel Digital Future Labs for schools and young people; state-of-the-art cinemas, and a  media preservation lab.
The Victorian Government invested $36.6 million in the redevelopment which has also received generous corporate and philanthropic support.
Recently appointed Minister for Creative Industries Danny Pearson said: 'Screen culture has never been more central to our lives and ACMI tells the story of where it has come from and where it is going in exciting, imaginative and interactive ways.'Melbourne Connect precinct housing Science Gallery Melbourne.
Science Gallery Melbourne (SGM) – New Build
Opening: Early 2021
The University of Melbourne secured the rights to the first and only Australian node of the acclaimed international Science Gallery network. It will open in 2021 as part of the university's innovation precinct, Melbourne Connect.
Including over 3500 sqm of cutting-edge, immersive exhibition and learning spaces, Science Gallery Melbourne has been designed by William Smart at Smart Design Studio (White Rabbit Gallery and the multi award-winning residential project Indigo Slam).
Delivering modular exhibition spaces, theatres, workshop and social spaces, it will be accompanied by immersive digital experiences that allow interaction and connectivity for young people.
Creative Director of Smart Design Studio William Smart said: 'Open and connected, SGM will invite visitors to an experience that is at once playful and contemplative; to engage deeply or just hang out. This gallery will be inspiring and delightful, a canvas on which to write a new story of science colliding with art and innovation.'
Located on the former Royal Women's Hospital site, at the intersection of Swanston and Grattan Streets, Melbourne Connect is a new precinct for research, industry, government and students in a single, purpose-built site.
The inaugural Science Gallery Director is Rose Hiscock.
Shepparton Art Museum (SAM) – New Build
Opening: early 2021
Cost: $50 million
Construction is complete on the new Shepparton Art Museum (SAM) building, and the project is in the final stages of fit out and landscaping. With an opening date to be set, SAM is expected to welcome visitors early in the year.
Designed by internationally renowned architects Denton Corker Marshall, the new Shepparton Art Museum (SAM) is a five-storey building housing the museum, visitor centre, and the Kaiela Art Gallery and Studio.
The 5,300 sqm building will also house a café and event space, with a roof top viewing deck. Designed in a 33m x 33m cube-like form, the new Museum is located on the south-eastern corner of Victoria Park Lake to maximise SAM's greatest asset: the park setting.
Four L-shaped plates, each of different heights, make up the building's façade. Each plate is of a different metallic finish; low sheen zinc to the southern approach; matt soft charcoal above the entry to SAM on Wyndham Street; metallic mid-grey facing the park; and rich ochre-red corten steel facing the lake and river plain.
It will be an outstanding example of exciting, best-practice contemporary museum architecture designed by one of Australia's leading architects on a remarkable site in regional Victoria, and with Green Building star rating.
Funding for the build came from: Greater Shepparton City Council ($15.35m); Victorian Government ($10m); Federal Government ($15m) and the SAM Foundation ($7m).
THE LUME Melbourne – New Fitout
Opening: Autumn 2021
A brand-new, immersive arts space is launching in Melbourne in 2021, which will feature floor-to-ceiling projections, exciting soundscape and even smells! Named THE LUME Melbourne, the digital gallery will begin to move into its permanent home at the Melbourne Convention Exhibition Centre (MCEC) from January.
The founder of Melbourne-based creators, Grande Experiences, Bruce Peterson, says THE LUME Melbourne is the answer to Australians' growing appetite for meaningful, shared, new experiences and is proud to bring this next generation, digital gallery permanently to Australia's arts and culture capital.
Grande Experiences is the company responsible for Van Gogh Alive, with its Australian premiere in Sydney last year, and opening The Lume in autumn.
'The cultural scene is vastly changing as visitors demand new experiences. We have been at the forefront of this movement globally as our popular exhibitions have quickly moved from artefact based, to multimedia, to now multi-sensory / experiential,' said Peterson.
QUEENSLAND
HOTA Gallery, Home of the Arts – New Build
Opening: 10 April 2021
Cost: $60.5 million
A brand new $60.5 million gallery is being built at Home of the Arts (HOTA) as part of the HOTA Project. The HOTA Gallery will open on 10 April 2021, making it a must-see cultural destination on the Gold Coast for the city's $32 million collection. Construction started September 2018.
HOTA Gallery will be the largest public gallery outside a capital city in Australia with the ability and ambition to present exhibitions and projects of national and international scale. Designed by international architects ARM, the art gallery will span six levels, with over 2000 sqm of AAA-rated, international standard exhibition space.
It includes a dedicated Children's Gallery, a 1000 sqm Main Gallery, designed specifically for touring exhibitions of an international size and scale, a dedicated City Collection gallery,  and a 1000 sqm collection store, work-space and crate storage area.
Rockhampton Museum of Art – New Build / Refurbishment
Opening: late 2021
Cost: $31.5 million
Rockhampton Art Gallery is being reimagined within a new vibrant cultural precinct (the Riverside Redevelopment) and community space that will activate Rockhampton's CBD – reimagined as Rockhampton Museum of Art.
Rockhampton-based Woollam Constructions will build the city's $31.5 million Art Gallery.
The State Government is providing $15 million of the project's costs. The remainder is shared by the Federal Government contributing $10 million and Rockhampton City Council with $8.5 million.
Construction of the new Art Gallery began in July 2019. The plan is to demolish 212 and 214 Quay St, next to Customs House, and build a three-storey modern gallery.
The new gallery will feature two large flexible gallery spaces, three education spaces, permanent collection storage, a restaurant and a retail shop, with total floor area increasing from 650 sqm to 4711 sqm.
It will have a space dedicated to the nationally signification 1500-piece Rex Pilbeam collection now worth $14million, and will also have the capability to  host major ational exhibitions.

Australian Stockman's Hall of Fame and Outback Heritage Centre. Photo Christopher Frederick Jones, m3architecture.
Australian Stockman's Hall of Fame and Outback Heritage Centre – Refurbishment
Opening: April 2021
Cost: $15 million
Creative technology company Art Processors is leading the artistic and digital transformation of The Australian Stockman's Hall of Fame and Outback Heritage Centre (ASHOF), situated in Queensland's central western town of Longreach.
The $15 million project aims to create a bold new vision for the Longreach tourist attraction. Over two years, Art Processors will completely transform the Centre's five galleries, reimagining the visitor experience across digital interaction and exhibition design. The project is a collaboration with m3architecture and Brian Hooper Architect.
Since its opening in 1988, the Hall of Fame has played host to over one million interstate and international visitors – providing each one with a spectacular outback experience. Currently The Stockman's Hall of Fame Museum and galleries are closed for the major renovations and are set to reopen in April 2021.
NEW SOUTH WALES
Orange Regional Gallery – Extension
Opened: Mid 2021
Cost: $4.8 million
The Regional Gallery Extension includes: a new 270 square metre contemporary gallery with ground-breaking lighting design and the latest in Bluetooth LED technology; refurbishment of the Gallery's smaller ground level exhibition space with a new entry corridor and redesigned ceiling, making; a 75-seat tiered gallery theatre; expanded reception and lobby; a new state-of-the art storage and conservation area.
The extension is designed by Sydney firm Architect Marshall ,whose previous projects include the extension to the Museum of Contemporary Art at Circular Quay (2012) and an extension to Campbelltown Arts Centre (2009).
The project has been made possible by NSW Government's Regional Cultural Fund ($4,052,990) and Orange City Council ($1,000,000). Construction is well underway.  The gallery is currently fundraising.
Bundanon Trust – New Build
Opening: October 2021.
Cost: $28.5 million
Construction of a new art museum and creative learning centre at Bundanon Trust began in July 2020, the gift of Arthur and Yvonne Boyd on the Shoalhaven River (South Coast).
At the heart of this new plan is a light-filled subterranean gallery and collection store with a $300,000 Embers Suppression System – an industrial scale sprinkler system that can be triggered off-site – which will ensure that the $43 million art collection of some 4,000 items will be protected from future bushfires.
Construction company ADCO are well on track with the project. ADCO's bid was considered outstanding for its quality of response, track record of achievement and competitive pricing.
Early works have been undertaken by Shoalhaven company Jervis Bay Group (JBG), with excavation for the main art museum building beginning in April 2020. As their work continued, the shape of new roads and carparks, a footbridge over the creek and the enormous space for the subterranean art museum has emerged.
In an earlier interview Deborah Ely, outgoing CEO told ArtsHub said the 'world-class facilities to attract visitors to regional Australia and to house this internationally significant, and rapidly growing, modern and contemporary art collection.'
The Federal Government has contributed $22 million to the project, with the NSW Government's Regional Cultural Fund adding $8.6 million.
Business case projections conservatively estimate that participation will increase by 80%, and will drive an additional $10 million in revenue annually to the local economy.
4A Centre for Contemporary Asian Art – Refurbishment
Opening: early 2021
4A Centre for Contemporary Asian Art closed temporarily in November 2020 to undertake major remediation works to improve the gallery Haymarket's Corporation Building, which it has occupied for over 20-years. The work is being conducted by the City of Sydney.
Woollahra Gallery at Redleaf – New Fitout
Opening: early 2021
A new gallery, the Woollahra Gallery at Redleaf will open in Sydney in early 2021 house in the former Double Bay Library site – a 122-year-old heritage building overlooking Blackburn Gardens, the iconic Sydney Harbour and Murray Rose Pool in Double Bay.
The building is currently being transformed into multiple exhibition spaces so it may host up to 4 exhibitions at one time or present larger solo and group exhibitions. The gallery will also include spaces for digital and new media art practice.
The downstairs cultural hub situated below the gallery will become the new home for the established Woollahra Artist in Residence Program. The program provides rent-free, non-residential unfurnished studios for artists to work in. The cultural hub will run selected council-led cultural and creative programs available for the community to visit or hire for use.
Sebastian Goldspink has been appointed as Gallery Coordinator.
Grafton Regional Gallery – Refurbishment
Opening: Mid February
Cost: $7.6 million
The massive redevelopment of the Grafton Regional Gallery has been under way since late 2019 when it received funds. Works were set to be completed December 2020, but the $7.6 million refurbishment and extension has been rolled to 2021.
The multi-million dollar expansion will include a national standard main gallery, new workshops and exhibition spaces, a new café and better storage to protect its valuable collections from flooding. The tender for the project was awarded to O'Donnell & Hanlon.
The project was made possible by a $7.6 million grant from NSW Government's Regional Culture Fund.
Ngunungulla, Southern Highlands Regional Gallery – New Build
Opening: August 2021
Cost: $7.6 million
Construction works on the new gallery designed by Tonkin Zulaikha Greer Architects and managed by Richard Crookes Constructions has commenced, adapting the historically significant National Trust Retford Park Dairy site into a dynamic gallery space.
While the gallery has been on the table as an idea for over 30 years, in part it was the confirmation of a 25-year lease in 2018 of the National Trust (NSW) managed site, the Retford Park Dairy, an outbuilding of the historic homestead gifted to the state by art collector and philanthropist James Fairfax in 2016. The gallery will pay a peppercorn rent to the Trust.
It received money from the NSW Regional Cultural Fund and Wingecarribee Shire Council. Sod was turned in December last year and Ngunungulla is projected to open to the public in August 2021. Megan Monte as Ngunungulla's inaugural director.
The gallery will have a learning gallery, a cafe and taking its name as cue (which means belonging), will have a strong commitment to First Nations culture.
Newcastle Art Gallery – Expansion
Opening: currently at DA stage (timeline yet to be published)
Cost: estimated $35.6 million
The expansion of Newcastle Art Gallery (NAG) will see the 43-year-old building extended east along Darby Street and Queen Street with an eye-catching glass façade, a street-level café and retail shop, with overall exhibition space expanded by 250% which will include a dedicated display of the Gallery's permanent collection.
The additional exhibition space has in part been created by the removal of two shopfronts that were previously proposed in the approved development application.
Lord Mayor Nuatali Nelmes said the State Government had previously endorsed the project in its Cultural Infrastructure Plan 2025.  He said the expanded Newcastle Art Gallery 'is particularly important as a mechanism to help stimulate the NSW economy and create 170 jobs during this time of uncertainty'.
City of Newcastle has committed more than $10 million to the project and to date invested $3.6 million towards the Art Gallery expansion. Based on a 2019 quantity survey, $35.6 million is required to complete the construction of the expanded Newcastle Art Gallery.
The expansion has been the subject of bitter debate for more than a decade, especially during the 2012-2014 reign of former lord mayor Jeff McCloy, when the city was forced to hand back a $7 million Federal Government grant after failing to secure state funding.
Artspace – Refurbishment
Opening: work to be completed in 2021
Cost: estimated $5 million
In November 2020, the NSW Government's committed over $5 million towards The Gunnery in Woolloomooloo to be transformed into a state-of-the-art facility with expanded exhibition spaces, increased artist-in-residence studios and a greater connection to the local neighbourhood and Sydney Harbour Foreshore.
The building has been home to Artspace since 1993. The transformation will feature these key elements:
Reorientation of the gallery entrance to Forbes Street plaza to provide greater connection with the neighbourhood and harbour foreshore and create a cultural corridor and sightline with Art Gallery of New South Wales/Sydney Modern Project and the Domain parklands;
Expanded exhibition space on the ground floor;
The first floor will be upgraded into an education, outreach, digital broadcast, performance, production and public program space;
Increasing the number of artist studios offered rent-free to NSW-based artists from 7 to 10; and
Creating equity access for audiences across all levels.
Artspace will close for approximately 12 months while the works are completed.
TASMANIA
Tasmanian Museum and Gallery, and associated sites – Refurbishment
Opening: April 2021, and staged roll outs
Cost: $3 million
Tasmanian Museum and Gallery (TMAG) used the moment of COVID-19 closed doors to look at its collection. That led to the gallery receiving a $3 million grant as part of the Tasmanian Government's COVID-19 stimulus package for important maintenance projects.
While closed, the gallery commenced repairing ageing roofs and gutters at Narryna, the historic property in Battery Point managed by TMAG. It is also stabilising the stonework of the iconic Custom House building, and protecting the brickwork of the Bond Store at the city site.
The grant will also enhance the environmental conditions of the public galleries and undertake further work to address water leaks and storm damage.
In addition to these maintenance projects, a further $1 million was received by TMAG to build a new permanent children's exhibition, which is scheduled to open in April 2021.
ACT
National Museum of Australia – Extension
Opening: 2021, and staged roll outs
Cost: $20.5 million
In December 2018 the National Museum of Australia (NMA) unveiled a $266 million master plan for the museum's expansion over the next decade.
Local Projects, the company behind the September 11 Memorial in Manhattan and the revamp of Hyde Park Barracks in Sydney, has been commissioned to deliver the museum's new permanent environmental gallery in time for its 20th birthday in 2021.
The $20.5 million space will be part of a plan that also includes a futuristic boathouse for the Enterprise paddle steamer, that forms part of the museum's collection which is not protected from the elements.
The new boathouse, which would extend into the lake, would also include a museum to 'celebrate technology from steam through to renewables and look at its impact on Australian society'. It is also scheduled for completion in 2021, would cost around $12 million, and would potentially be partly privately funded.
The plan also includes an extensive redesign of the central Garden of Australian Dreams in 2025, and a lakeside plaza to take advantage of the land behind the museum that is currently used as a service entrance.
OTHER BUILDING PROJECTS IN 2021, FOR A LATER DELIVERY
Sydney Modern due to open in 2022
A new art gallery at the State Square Precinct in Darwin's CBD. Construction is expected to begin in 2021.
Parramatta Powerhouse
$18 million refurbishment to National Art School to happen during 2021
$455 million Australian War Memorial
NGV Contemporary in Melbourne (yet to break soil)
Mona's proposed $466 million development (currently paused)