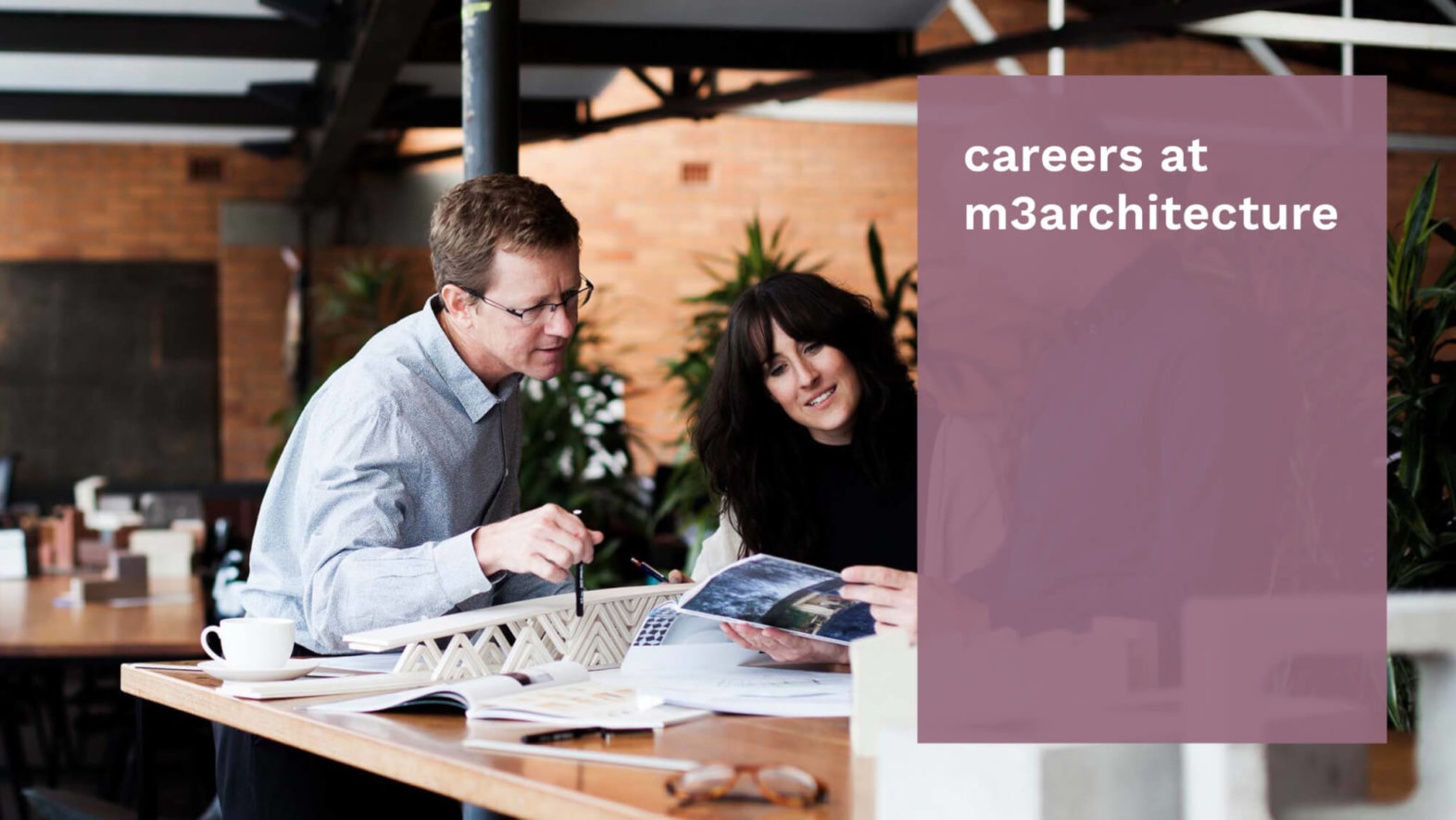 Careers at m3architecture
m3architecture is always keen to hear from talented individuals who are interested in joining our award-winning team. We embrace those who share our ethos and are invested in architectural ideas, research and collaboration.
Our ethos
Our practice is ideas-driven – we work together to design the unexpected and create the extraordinary. We evaluate all new projects against our aspiration to mitigate climate breakdown and we encourage our clients to adopt this approach. We are signatories to the Architects Declare movement.
Our studio culture
Our studio has a generous culture that nurtures creative energy and design enquiry, and values everyone's ideas and skills. Tea is brewed for all in our super-sized teapot twice daily, and the coffee is great too! We have design soirees on Friday afternoons and we provide continuous professional development and mentoring.
Centrally located, our warehouse studio in Brisbane's inner city is close to public transport, with end-of-trip facilities that encourage active commuting. Many of us cycle or walk to work – we lead by example and are proudly certified carbon neutral by Climate Active.
Above all, we believe that a balanced life leads to a happier workplace and better project outcomes. We are an equal opportunity employer. We welcome and support inclusion and diversity.
Current opportunities
Our current opportunity appears below. If this role doesn't match your profile, general expressions of interest are welcome. We invite you to send your CV and portfolio to careers@m3architecture.com. We keep the details of suitable candidates on file and will contact you if a relevant opportunity arises.
---
Currently seeking: Senior Architect
Candidates must have experience in developing client relationships, leading and mentoring a team, and delivering high-quality work across all project phases. As a senior architect, you will work directly with consultants and m3architecture team members to produce comprehensive design and documentation packages through strong and collaborative work.
Required experience, attributes & skills:
Equivalent of 10+ years post-registration experience including all design and project execution phases (notably CD and CA)
Australian-recognised professional degree in architecture
Professional proficiency in Revit
Knowledge of Australian building codes and standards
Portfolio of realized projects of min $20M construction value
Excellent written, verbal and drawn communication skills, including experience with coordinating projects and presenting to client and consultant teams through all phases
Ability to prepare, manage and meet project programs through all project phases
Experience in managing projects and teams
Experience in delivering full construction documentation packages
Demonstrated ability in architectural detailing
Confidence working collaboratively in a dynamic team environment
High proficiency in English
Advantageous experience, attributes & skills:
Australian architectural registration
Exemplary skills in architectural ideas and design
Ability to follow architectural ideas through all aspects of a project
Proficiency in Adobe Suite and Microsoft Project
Experience in traditional delivery contract administration of projects min $15M construction value
Experience in delivering projects under a Design and Construct arrangement
Please send your cover letter, resume and portfolio to careers@m3architecture.com
m3architecture is an equal opportunity employer and welcomes applicants from all backgrounds.