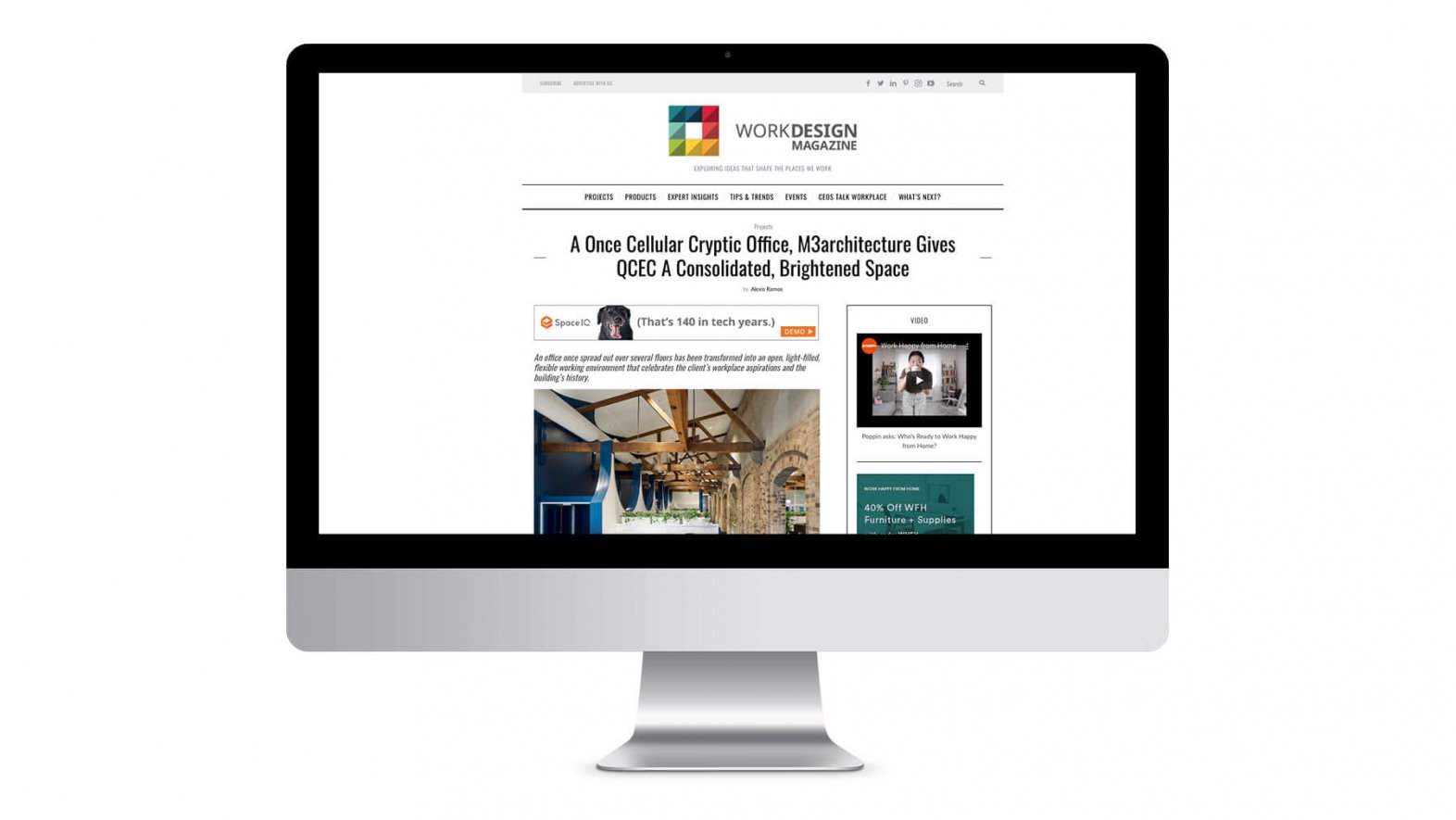 A Once Cellular Cryptic Office, M3architecture Gives QCEC A Consolidated, Brightened Space
m3architecture's QCEC project featured in Work Design Magazine.
An office once spread out over several floors has been transformed into an open, light-filled, flexible working environment that celebrates the client's workplace aspirations and the building's history.
Prior to m3architecture's engagement, the Queensland Catholic Education Commission's (QCEC) staff occupied cellular offices spread out over several floors of their existing building. Because of this, m3architecture began its design process by conducting a study of QCEC's cultural aims and investigating the workplace typologies most appropriate to this culture. Based on their findings, the firm devised a hybrid design of activity-based workspace and open-plan workstations. The process led to consolidating the entire organization on a single floor.
The new workplace is built around teams co-located with potential collaborators from other arms of the organization.
A large collaborative workspace, that is partly visible from the foyer, serves as a seamless transition between public and private zones. This space acts as a lunchroom, a venue for staff meetings and a space for informal functions. A secondary set of large, more formal and flexible meeting rooms serve as bookends to the public zone. Meanwhile, smaller meeting rooms and collaborative zones are dotted throughout the workplace.
The planning for this project works on a ratio of 20% enclosed space (offices and meeting rooms) to 80% open space. This approach floods the interiors with natural light by maximizing access to the windows. Minimizing the need for new internal walls, by maximizing the use of soft furnishings and joinery, allowed us to achieve efficiencies in both the program and the budget. Where new construction was unavoidable, it was deployed using; minimal means, contrasting colors and complementary forms, illuminating and enhancing the appeal of the existing heritage features.
The fit-out achieved:
• A contemporary working environment
• Enhanced workplace culture and amenity
• Improved workplace identity
• A better public interface for QCEC
• Enhanced heritage features throughout
• A cost-effective design solution
• Performance-based building approvals
Describe QCEC's workspace types.
Workspace types include; a mix of collaborative and flexible work zones, quiet spaces, formalized open plan workspace, informal meeting spaces, a select number of offices with inbuilt meeting spaces, food preparation and eating spaces which double as places to meet clients over coffee and/or hold informal staff meetings, technology-enabled spaces for video conferencing, and a specific space for the client's board to meet and hold formal functions.
What kind of meeting spaces are provided?
The kinds of meeting places provided include; quiet spaces, meeting places in private nooks, open plan team collaboration zones accessible off formal work zones, small meeting rooms for private conversations and videoconferencing, collaborative meeting rooms, meeting zones within formal individual offices, meeting rooms designed for public access and a formal board room.
What other kinds of support or amenity spaces are provided?
Unbriefed spaces include the window seats. These spaces sit on the primary circulation paths and allow for alternative workspaces as well as informal unplanned meetings. The kitchen/staff space is also designed with small and larger groups in mind, allowing meetings to follow on from or be part of the everyday activities of lunch/breaks, etc.
What are the projects location and proximity to public transportation and/or other amenities?
Located in Brisbane's CBD the project is close to major; bus, rail and ferry terminals. Located in a heritage-listed building, this fit-out is built around a set of rules which enable us to protect and preserve the heritage fabric, whilst adapting the building to its new use. Examples include opening up the main spaces to views and light similar to the building's original spatial condition as a paper store, as well as ensuring all new fixings into existing masonry walls occurred into mortar joints, as opposed to fixing into and potentially damaging the heritage bricks themselves.
What kind of programming or visioning activities were used?
At the macro scale, visioning activities were focused on what kind of organization staff wanted and at the micro-scale, individual tasks and staff needs were audited to ensure that the macro vision-enabled current ways of working whilst allowing room for growth, alternative modes of work and respecting the existing heritage building. Individual meetings and staff presentation activities supported these processes.
Were any pre-planning surveys conducted to get QCEC's employee input?
Two employees from each of the four main divisions of the organization were interviewed to understand their detailed and daily working practices, audit their existing working environments (in use) and to ascertain what kind of activities their ideal workspace might enable.
In addition, the leadership team provided feedback on their vision of a flexible, forward-looking fit-out that would allow the organization to adapt to different workstyles and conditions as well as allow for growth.
The leadership group's brief included a request for the fit-out to be reflective of their status as a peak body. However, the nature of the client base also required that the tenancy not appear 'expensive'. We approached the brief with strategies at both the planning level as well as via our use of detail and materials. Planning minimized the number of walls and maximized the use of simple prefabricated joinery, whilst the use of simple steel stud walls, plasterboard, and prelaminated joinery boards also kept material costs down. Plants were consciously used as a finish in the fit-out, when combined with painting selected walls in dark colors these strategies assisted us in transforming readily available and commonly used materials above the ordinary.
The outcome has a low key presence which is built around respect for the building's existing character, the quality of natural light in the workspace and soft landscape rather than high-end finishes.
Was there any other kind of employee engagement activities?
During the project's design development, additional 'whole of staff' presentations was given to update the staff and gather additional comments or observations.
Was there any emphasis or requirements on programming for health and wellbeing initiatives for QCEC's employees?
The inclusion of a tenant-specific end-of-trip facility and an expansion of the tenancy's use of plants were two initiatives specific to the project which was adopted to improve health and wellbeing. In addition, a reconfiguration of the building's security keying around the fire stairs now encourages staff to use these stairs and gain the exercise benefits from this.
What kind of branding elements were incorporated into QCEC's design?
The colors for the fit-out are selected from the client's logo/branding colors. (generically; a deep red and dark blue). The main wall color for the foyer (dark blue) is also the complementary (opposite) color to the general heritage brickwork. This observation encouraged us to use the client's corporate palette as a way of drawing the eye to and highlighting, the existing heritage fabric.
What is the most unique feature of the new QCEC space?
The new public (foyer)/private (workspace) dividing wall reflects the curved forms of the heritage windows on the building's street façade. By inverting these forms, the project enables a way these new lightweight walls can be supported by the existing roof trusses whilst ensuring the required security and separation for staff. Meanwhile, opening up views for visitors to the tenancy and the heritage fabric beyond the lobby space.
Toilets are often forgotten space, removed from the prime real estate of windows. They often lack character, natural light, and views. For this project, the walls above 2100mm in height were glazed to allow views up to the heritage-listed timber trusses from the stalls.
What kinds of technology products were used?
The tenancy is technology-enabled throughout to ensure that all forms of collaboration and communication can be supported. All meeting rooms are fitted out to ensure that video conferencing is available to all staff in all situations.
If QCEC relocated to a new space, what was the most difficult aspect of the change for the employees?
With 30+ years of cellular offices, adapting to a new open-plan, cross-pollinated team structure, with adaptable workplace options has not been easy for all staff.
However, the design has addressed the key aspects of the staff feedback including the provision of appropriate acoustic treatments, privacy when seated, smaller groupings and a variety of private spaces and meeting rooms. The outcome has seen a new level of collaboration and efficiency achieved for the group and an acceptance that change can be positive.